Car Wash
Blue River Car Washes are Colorado-style washes located in Silverthorne, CO. Open 24 hours a day, 7 days a week.
Our washes were designed with our
customers' lifestyles in mind . . . from our state-of-the-art automatic washes that will CONTOUR your
vehicle, to our credit card acceptance at all of our over-sized self-serve bays, high-powered vacuums, and clean, easy to access facilities.  You'll love washing with Blue River Car Wash!
It's not just a plain car wash. See what our premier car cleaning service includes: Power Dry, Underbody Flush with Rust Guard, Wheel Brite Rim Cleaner, Tri-Luster Foam, Clear Coat Protectant, Super Shine Tire Gloss, Windshield and Surface Protectant.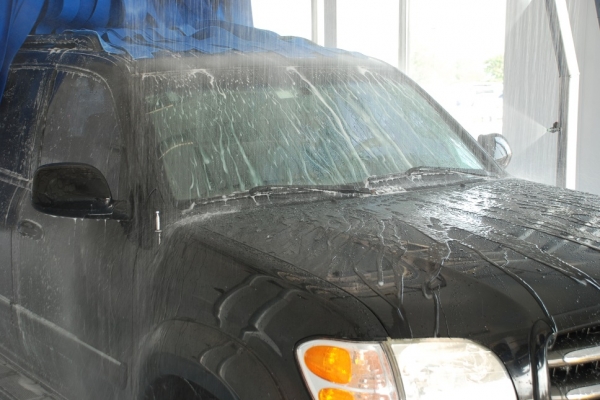 As the finest car wash in Silverthorne for 13 years, Blue River Car Wash offers; 1 automatic car washing bay, 3 self service bays and 4 vacuums for your car care needs.
With over 250K worth of improvements to our car care center, we've invested in technology to decrease friction and increase high-pressure water. Here at the Blue River Car Wash we are proud to be doing our part to help conserve valuable natural resources.
We have received rave reviews from many people who lead busy lifestyles. They don't have time to wait and they don't want to be inconvenienced with the traditional car wash. Blue River Car Wash is the solution they have been asking for. And, it can be your solution too! See for yourself what all of the excitement is about! Blue River Car Wash is Silverthorne's leading express car wash.
Blue River Car Wash accepts all the following:
Wash Type

Price

Features

Basic
$7.00
- Hot foam bath
- Under carriage wash
- Rocker panel & wheel wash
- Rinse
Deluxe
$8.00
- Hot foam bath
- Under carriage wash
- Rocker panel & wheel wash
- Double rinse
Works
$9.00
- Hot foam bath
- Under carriage wash
- Rocker panel & wheel wash
- Double rinse
- Clear coat protection
- Vortex dry
Self Serve
$3.25
- Engine cleaner
- Tire & wheel cleaner
- Bubble brush